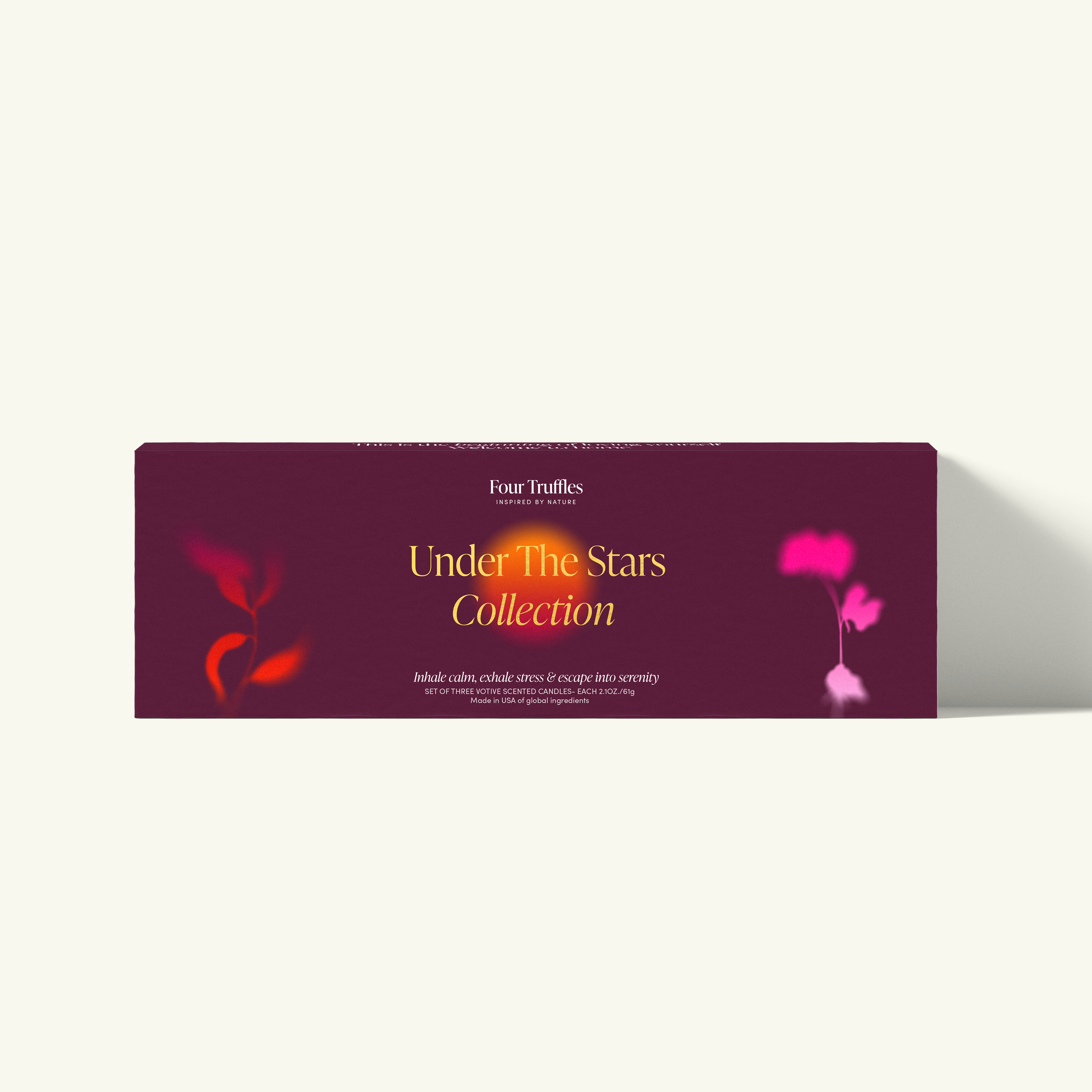 Under The Stars Set of Three Votive Candles
Sale price

$59.95
Regular price
(/)
Cosy season is here, so immerse yourself in the enchanting ambiance of the holidays with our Holiday Votive Set. This collection features three votive candles: Velvet Sky, Enchanted Forest, and Fireside Comfort, each carefully crafted to evoke the warmth and magic of the season.
Net weight: 10oz/280G
Burn time: Approximately 40 hours

During initial use, we highly recommend leaving candle burning for 2-3 hours until all the wax has become liquid on the entire surface.  This will allow the candle to burn evenly and prevent tunneling.
Cut/Trim wood wick regularly, preferably before each use, removing all charred wood from previous burns.  To trim wooden wick, remove all charred wood (we suggest a wick trimmer)
Burn candle within sight and attended.
Never burn a candle on or near flammable materials or areas
Always keep out of children's and pets' reach.
Candle vessel is hot when lit, please do not touch unless it has cooled down.
Do not burn candle all the way down.  Discontinue burning candle when wax is approximately ½ inch down from the bottom of the glass.
Recommended: Place a coaster on a flat stable surface where you intend to light your candle. The coaster should be heat-resistant like ceramic or glass to withstand heat.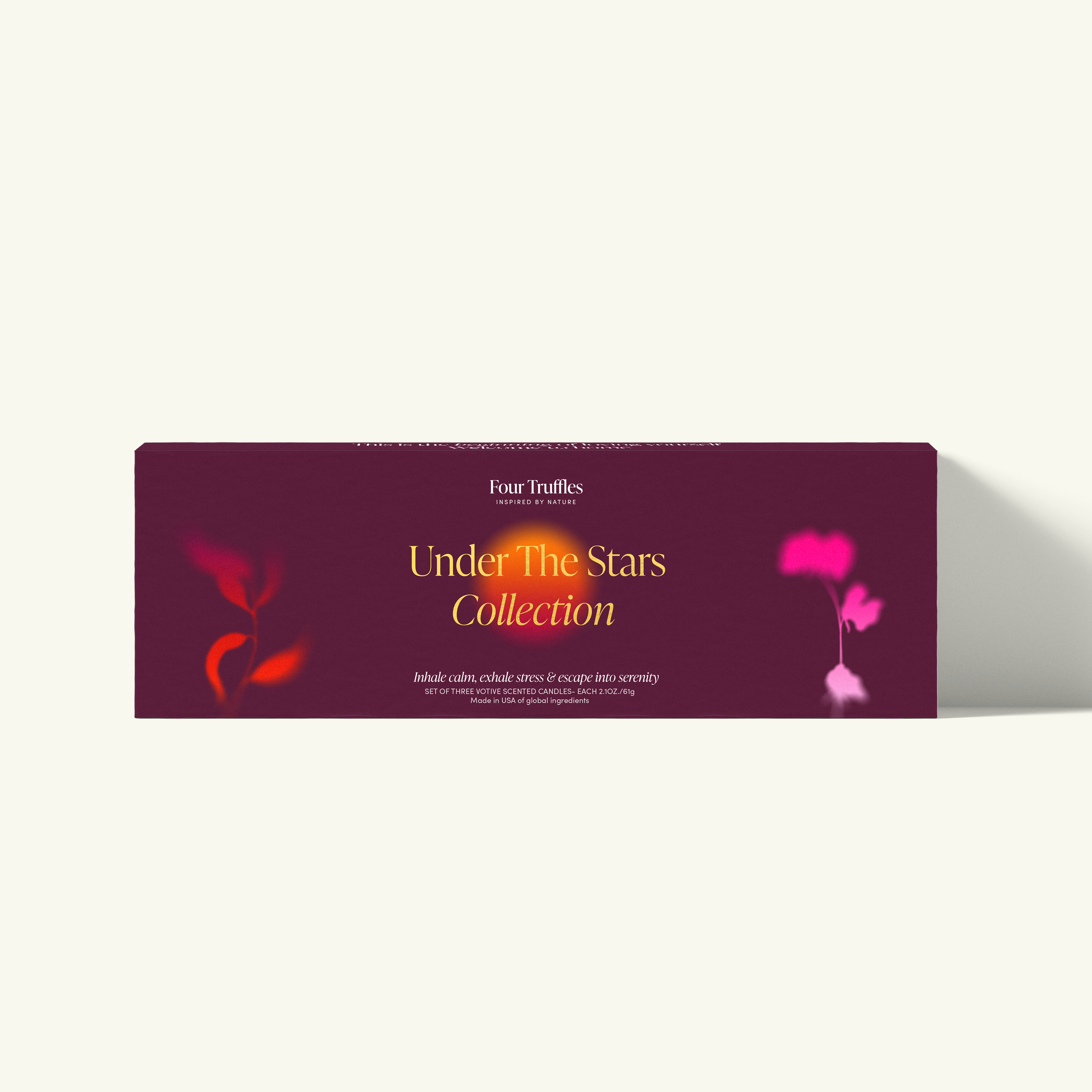 Under The Stars Set of Three Votive Candles
Sale price

$59.95
Regular price
Choose options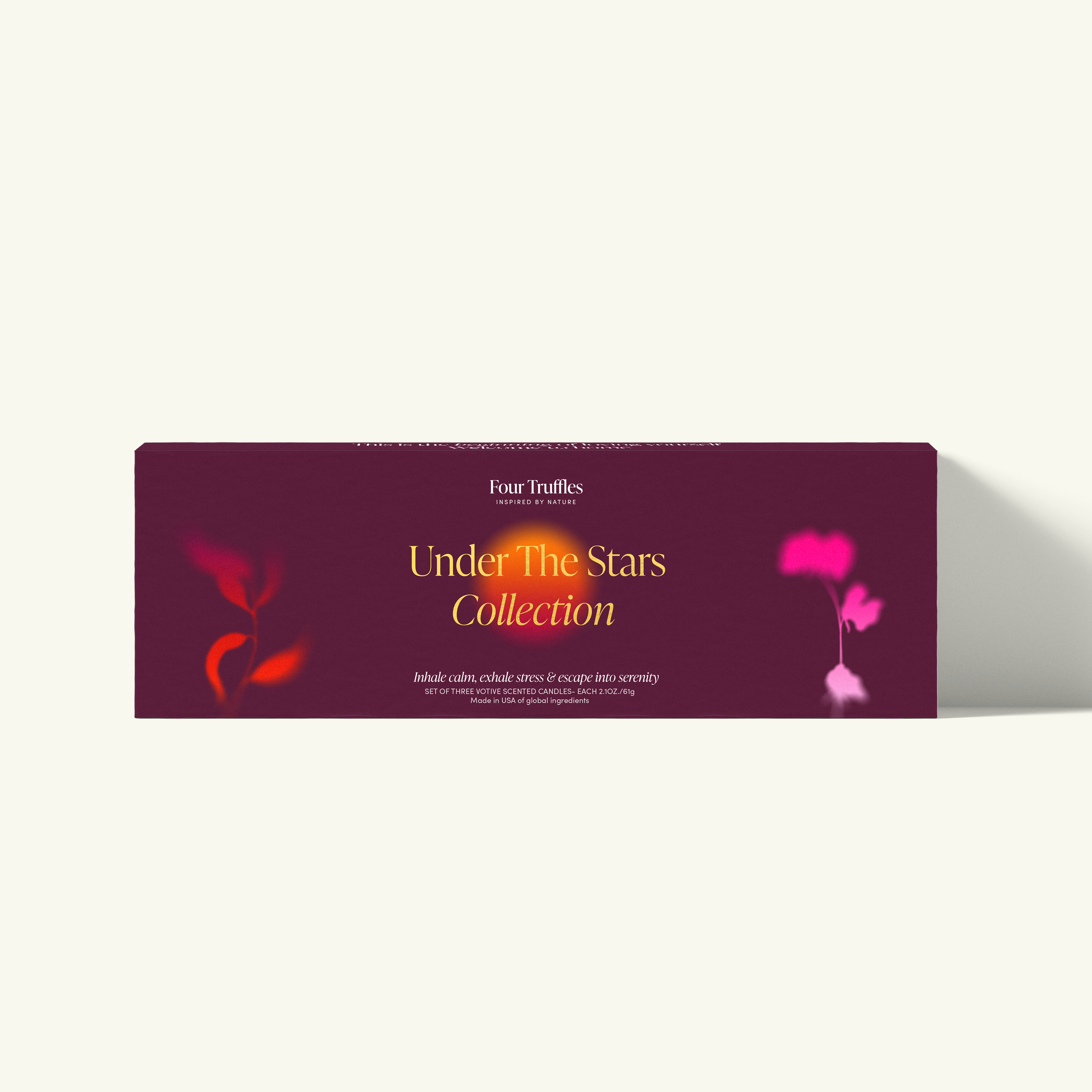 WHATS IN THE BOX?
⭐ Under The Stars Collection ⭐
As the flame of our Enchanted Forest candle glows, immerse in the enchantment of winter from the comfort of home. The top notes of white pear & pine evoke the freshness of a winter forest. Mid notes of fig and patchouli add depth & richness. The base notes of sandalwood &musk create a warm & alluring ambiance. Let this scent be your North Star to a winter of relaxation.
As the flame of our Fireside Comfort candle glows, let its warm, inviting aroma envelop you.  The top notes of zesty bergamot & the mid notes of rich, burnt caramel fill the air, creating a sense of indulgence & luxury.  The base notes of fluffy marshmallow add a touch of childhood nostalgia.  The perfect candle for when you need a comforting reminder of home.
As the flame of our Velvet Sky candle burns, indulge in the luxurious allure with every flicker. The top notes of bergamot & lemon add a clean elegance. Mid notes of jasmine & spearmint add elegance. Base notes of juniper berry & vanilla provide a refreshing and calming foundation. Elevate your space with opulence. A candle that sets the stage for memorable moments.
Create memories, one comforting scent at a time
This collection is more than just candles; it's an invitation to create memories, share stories, and bask in the festive spirit. Whether you're celebrating with loved ones or enjoying a peaceful evening alone, let our candles be your companions on this magical journey through the holiday season.
Crafted using the power of aromachology
Learn about the why our wellness molecules help combat anxiety, stress and low mood.
LEARN MORE